IMPERIAL ROMAN LEGION against ORCS
Battle played in the week of 19 to 25 October 2020
Headquarters of the Naran Team Turin
Armies:
We played with armies of 4000 points and 1500 points of magic (Ars Arcana) each.
The armies were represented respectively by 133 miniatures of the Imperial Legion Army and 162 miniatures of Ork Army, for a total of 295 miniatures.
You can see in the following pages the complete lists of the miniatures of the two Armies employed in the battle:
Outcome of the clash in terms of points:
The battle ended with a "MASSACRE" in favor of the Imperial Legion (Sergio):
The Imperial Legion suffered 2920 loss points (Sergio), with a difference of 1341 pointd in their favor.
The Orcs suffered 4261 loss points (Sandro). At the end of the twelve turns, he had only more left in the field: the Warchief on the chariot, a Wizard, a General and the Scout.
Note:
The scenario involved an incursion of Orcs from the tribes settled in Rugiland, in the territory of the Roman Empire.
The boring little Units of Orc Archers on giant wolf have given the Imperial Legate a lot of trouble, because having pushed themselves into the vicinity of the enemy army's deployment area, they attracted and blocked the Fiend summoned by the Capitoline mages. So it couldn't go to support the Giant Eagle and the Giant Elephant, who had to face the Juggernauth, the Giant Troll and the two Half-Giant Orcs with two heads.
The Giant Eagle and the Giant Elephant managed to eliminate the opposing Giant Creatures, but suffered "Wounds", which were then fatal to them when they had to face the Fiend summoned by the Orc Wizards, which killed them.
On the last turn, the Orc Wizards found themselves with fewer points than they needed to keep their Fiend on the battlefield, so they were forced to make Saving Throws and two of them had their heads exploded.
"ROMA INVICTA" !
Another epic battle of Naran Fantasy Wars !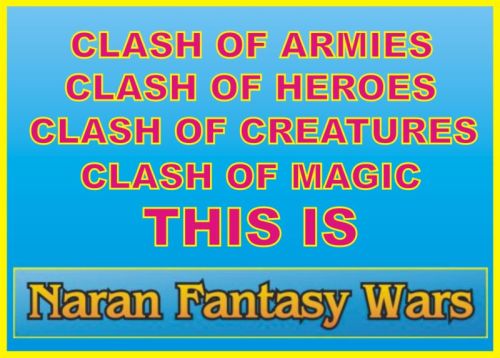 In this battle they were employed two armies for which there are their "army - books" translated into English.